---
Summertime email marketing campaigns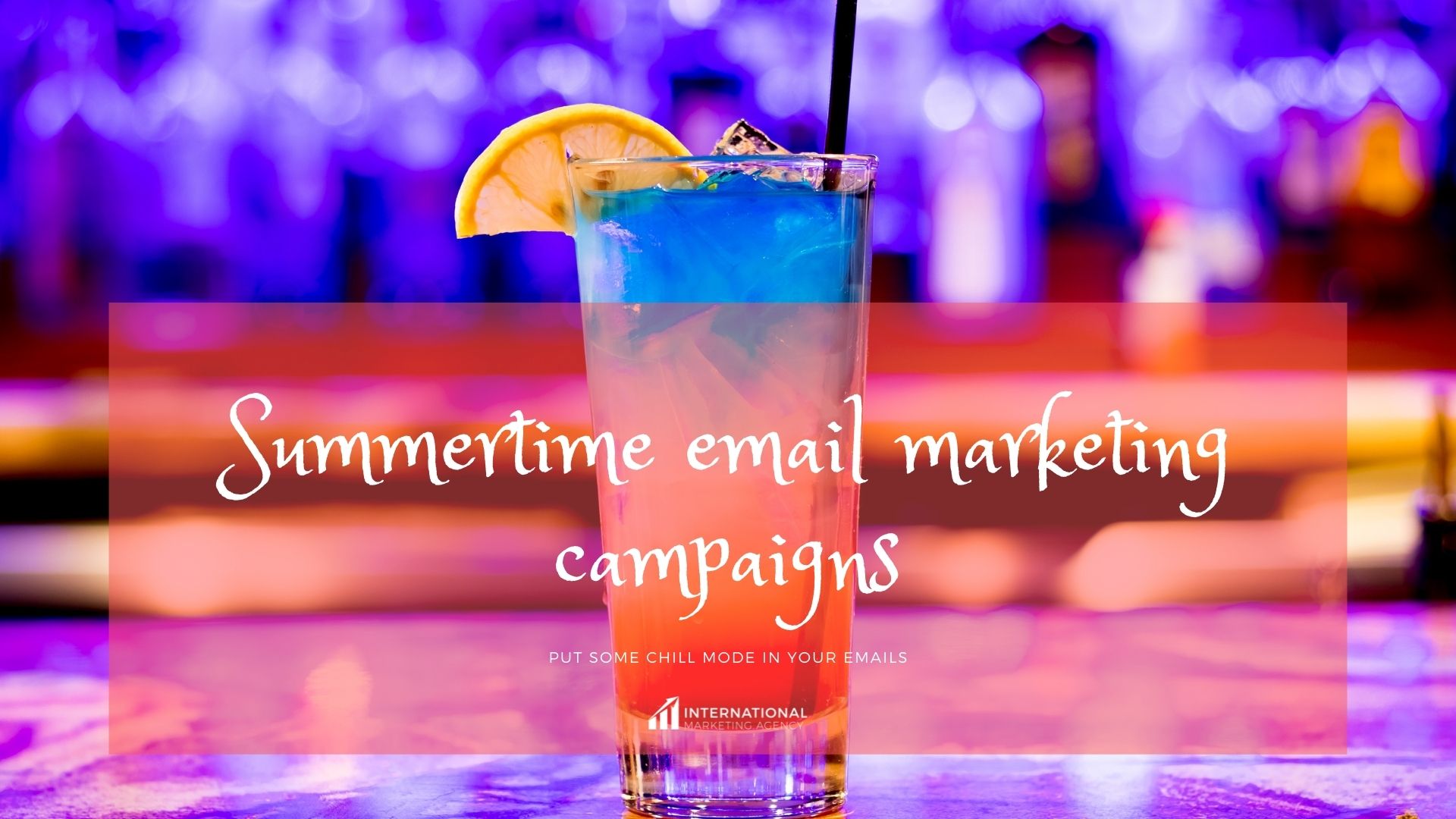 We can smell the summer, long nights on the beach, gold sunshine, cocktails, salt in the hair and dancing waves. Most of the people are outside the office, enjoying the great weather. But does that mean that you have to stop your email marketing campaign? Absolutely no. Summer period doesn't make subscribers disappear entirely, a significant number of people will still check their emails while on vacation. Most of us will try to get out of the office to enjoy the beautiful weather. But that doesn't mean that we will stop checking notifications- we just do it on different devices and at different times than usual.
Here is why you have to continue with your email marketing campaign:
99% of the consumers check their email every day
58% of the consumers open their email first thing in the morning
82% of workers check their emails outside of normal business hours
57% of email subscribers spend 10-60 minutes browsing marketing emails during the weekdays
44% of B2B marketers say that emails are their largest source of lead generation 
Email marketing is 40% better at converting leads than Facebook and Twitter 
60% of the consumers have made a purchase decision after receiving a marketing message by email
What you must do to have a successful email marketing campaign during summer
One of the most important things you have to do is to make your email mobile-friendly 
Mobile phones are used by modern people to save them time and solve their various problems on the go: From reading emails to making purchase decisions.
You have to have in mind that in these summer days, while people are enjoying their time with family and friends, they are not going to sit on their computer to read marketing emails. They want to quickly and easily scan emails from their phones without stopping their lives to check email at a computer. Statistics say that 61% of emails are opened and read on mobile devices. If customers can't read emails conveniently from their phones, there is a huge chance that they won't read them at all.
Write interactive and conversational emails, engage your customers
Engaging your customers and making your emails interactive and conversational is one of the steps that should be followed in order to have a successful email marketing campaign in 2021. You have to build trust with the leads if you want to convert them into customers. Customer engagement is dramatically increased while increasing email interaction between customers and businesses. How to make your email conversational?
Break up your content into short sentences and paragraphs
Make your content scannable 
Use the word "you" to let your target audience know that the email is about them 
Include CTA and animated buttons in your emails
Increase the reader's engagement with the emails by including GIFs, images, polls, surveys, or video within the content 
Research shows that 88% of brands say that videos have a positive ROI. Video content has gained in popularity and becomes one of the most favorite types of content for the majority of consumers. You can use video within your email content to explain your products or services to your target audience and build brand authority. 
Use captivating subject lines
Research shows that 47% of people open their emails based on the subject line.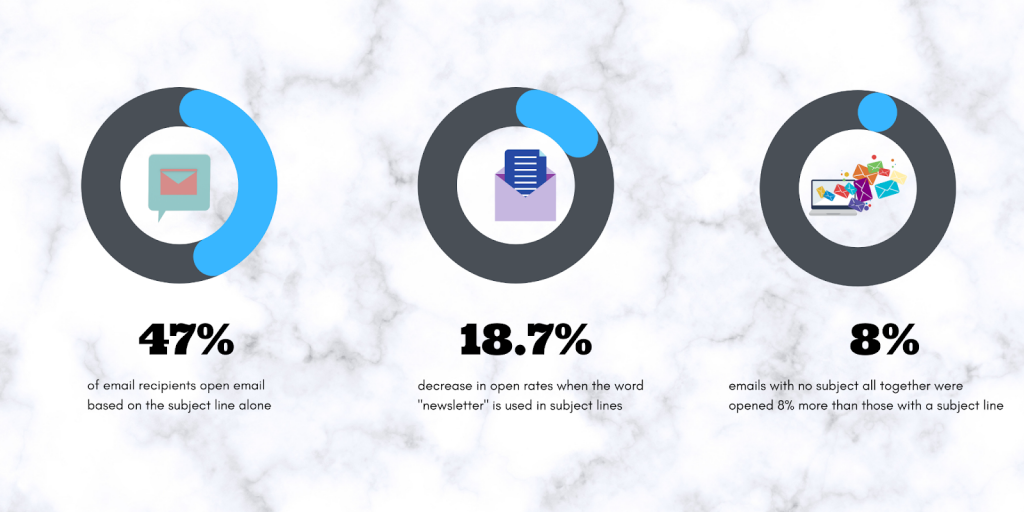 This shows how essential are your subject lines when it comes to your email open rates. Using 7 words in your subject line is perfect. Most emails have approximately 43 characters in their subject line. Words should be attractive and capable of holding your target readers' interest and attention. Here are 3 tips to make your subject lines captivating.
Use recipient name 
Emails that include the recipient's name have high open and click-through rates. This is because it makes them feel like you took your time to research them and know about what they want.
Use emojis
People are relating to emotions and emojis, so using emojis helps marketers connect with their readers emotionally. Research by Mediapost shows that emojis can increase user engagement with a brand. You can create emojis that relate to your target audience and connect with them emotionally.
Don't use caps
When writing your subject lines using all caps it sounds like you are shouting to the target clients. So, don't write your emails with all caps subject lines. Also, using all caps trigger spam filters where your emails are viewed as spam. Most people get annoyed when they see emails with all caps. Have in mind that you need to engage the target audience to your brand with the emails. In general most of the subject lines are written with only the first letter uppercase. For example: " We heard you're an expert, John"
Send emails when your recipients are active
It's really important to know when your recipients are active. If you send your emails when they are active there is a higher chance of them opening your emails and taking action. Based on the research that was done by a computer software company in Dakota Tuesday is the best day to send emails, after Tuesday on the 2nd place comes Thursday as an option if you want to send emails twice a week and Wednesday was also mentioned several times even though it wasn't the most popular. When it comes to the time when you should send the emails, 10 am is the best time to send emails. Another option is sending emails at 8 pm because people are checking their emails before going to bed, 2 pm when people are out of work mode or looking for distraction and 6 am because of the huge number of people beginning their day by emailing in bed. 
One more thing that you can do is to optimize your send time and send emails based on each subscriber's previous open times.
Still, you don't have to exclude doing the A/B testing on send dates and times. 
Link emails to landing pages 
When creating your email marketing campaigns, make sure you link the emails to the landing page of your website. A landing page is the main page on which you want your target audience to take action and make a visit. 
It's crucial to optimize your landing page for mobile use and have a high loading speed. If the visitors have to wait years and years for your page to be opened they will probably leave your website.
Here is an example of one of the International Marketing Agency landing pages with a consultation request.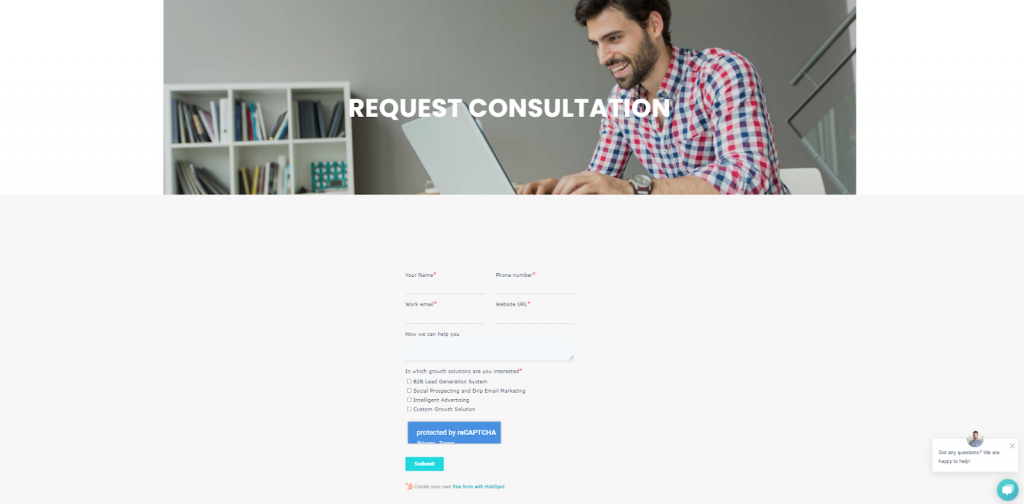 Use only one CTA button so you won't overwhelm your subscribers
If you want your target audience to take action after reading your emails you have to include a CTA button that will help them to do so and using a smart call-to-action can increase the chances of readers taking action. What can your CTA button include? Offers, discounts, deals, coupons codes and everything that requires taking an action. But, it's really important to have in mind that now is summer and people are relaxing their minds so they won't do more than one thing at a time. Make sure you keep your emails simple and use only one call-to-action to reduce the chance of overwhelming your subscribers. 
Make re-segmentation
It is natural to have a lower engagement during the summer season so to make sure you get the best results, your subscribers need to be re-segmented. Use your data to divide your customers into groups. Identify your loyal subscribers, the ones who engaged with at least one of your emails for example in the last 6 months versus 'lapsed' subscribers. 
Now that you have segmented your subscribers based on their recent behavior, you have two groups of people who can be targeted differently during the summer. Your loyal subscribers will re-engage with you after the summer. But when it comes to those 'lapsed' subscribers, you can create mailings that invite them back to your product or service with the added incentives of special discounts or deals that are only valid during the summer season.
Integrate user-generated content
Which types of content are considered user-generated content? There are four types of UGC content: images, audio, text, and infographics. This type of content boosts the conversion rate and 8% of the consumers swear by the value of user-generated reviews. 
Research shows that 70% of online buyers of products and services make their buying decisions based on the ratings, reviews, and comments left by other consumers of the products or services. Email marketers should include trust and value displayed by their consumers for their products and services in the drip email marketing campaigns.
Implement AI into your email marketing strategies 
Since we are living in a technological era, we have to be in step with technology. Smart technology can enhance anything in an email from subject line to hyper-personalized content to cross-channel strategy. Artificial intelligence can perform tasks that include recognizing emotions, diagnosing illnesses, and solving problems. AI tools can optimize facetime with customers and prospects by knowing which channel they are on at what time. 
AI's abilities are likely to expand. AI will soon complete human tasks faster, better, and more precisely. This means that now is a good time to implement AI in your email marketing strategies in order to optimize your marketing campaigns effectively. 
Give your emails a summer vibe
When it comes to the email design in the summertime you better put your creativity into it. As fashionistas provide us with upcoming season trends the marketers should do it too. 
Wanna know how to make your emails look summery? Here are 11 tips:
Freshen up your emails with some seasonal bright and bold colors
Don't forget to use GIFs
Make your products synonymous with summer
Create a mysterious or celebratory CTA button
Play with words and layout
Create a clever copy to drive clicks
Use bold typography
Design emails compatible with Dark Mode
Create emotional designs that trigger maximum conversion ( emotions like belonging, curiosity, trust, and fear of missing out trigger maximum conversion through emails)
Add dimension to your emails with 3D images
Make your email design mobile-friendly
Here are 3 examples of how some brands have done it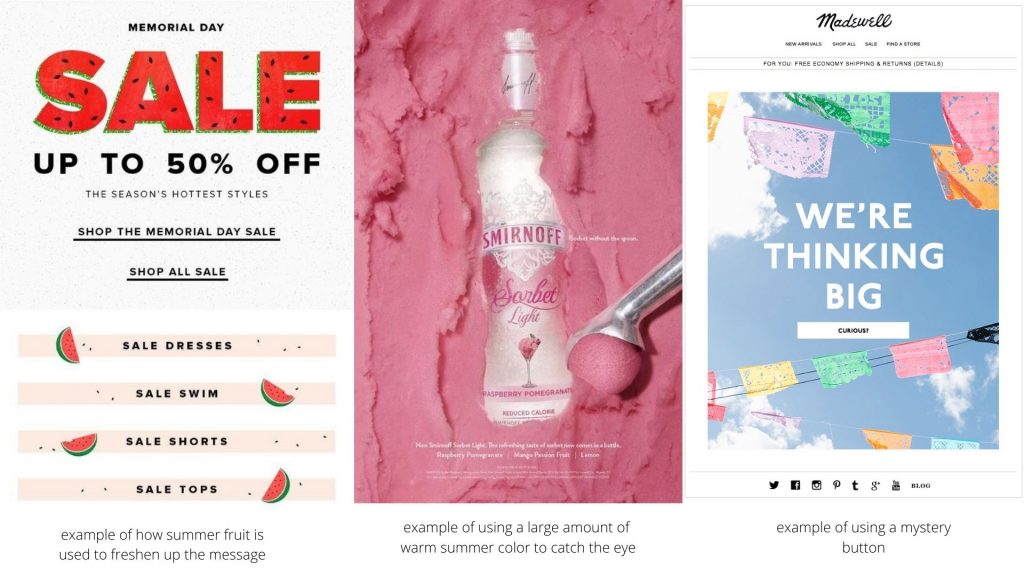 Prepare your email strategy for fall
Because time flies fast and we don't have as much time as we think, you can start planning and preparing your email strategy for the fall. Take time to consider the steps you need to take for email success after the temperatures cool off. You can first start with evaluating your data, strategies, campaigns, and tools to make sure you are on the right track.
Conclusion 
Even Though most of the people are outside the office they are still on their phones checking emails. Email marketing can be successful even during the summer if you use the right mix of strategies, focus on the right segments, and properly engage your subscribers/consumers.
Recommended Posts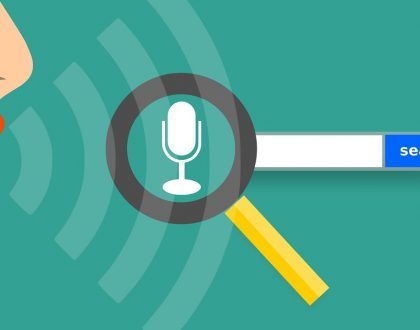 June 23, 2022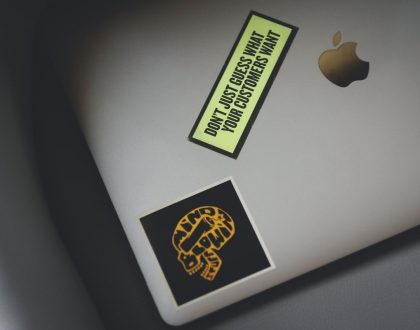 June 15, 2022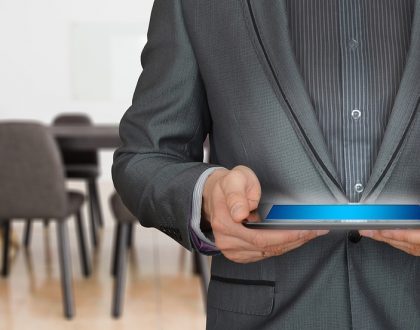 June 1, 2022