---
Case Study – Lead generation for Cyber Security companies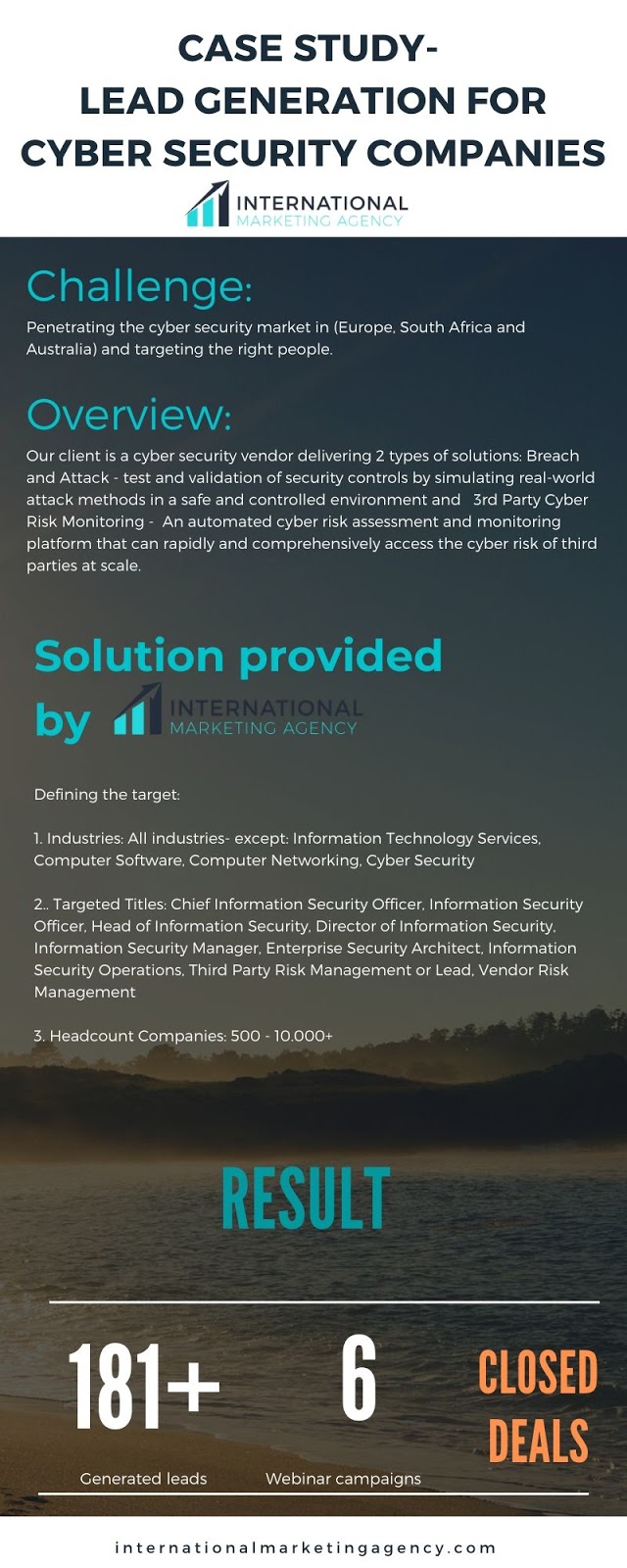 We publish this case study to the great satisfaction and pride of our lead generation specialist that runs this client's campaign. By the words of our lead generation specialist for cyber security – it is a pleasure to work with clients that have become friends and that follow the trends and adopt and respect the input and insight by International Marketing Agency in their strategy optimization. As a result of this interaction and this partnership, our client has optimized the strategy a few times by adjusting to the market needs and behaviour and achieved smooth flow of their business activity. We have been delivering demand generation strategies and lead generation marketing campaigns for our client for nearly two years and are constantly updating and renewing the agreements for our services. We are very proud of this long term partnership that we re-confirm with every campaign. Over time we have become more than partners and we consider them friends- as our lead generation specialist would say. 
Our client is a cyber security vendor that has 2 software services:
1. Breach and Attack- which tests and validates security controls by simulating real-world attack methods in a safe and controlled environment
2.  3rd Party Cyber Risk Monitoring-  An automated cyber risk assessment and monitoring platform that can rapidly and comprehensively access the cyber risk of third parties at scale.
The first thing that we did is start to research the market in order to understand more clearly where their services would be of a great fit. The cyber security market is one of the most specific markets in the world and it behaves extremely cautiously due to the nature of the job. On the other end it might might behave extremely libaral, there seems to be no in between in this industry. Being surrounded by smart black hats, white hats, red hats and all the colours in between is, we may agree, an extremely "Alice and the mad hatter" type of environment. Having this in mind, penetrating this wonderland of hats and becoming the "chosen" hat is a great challenge. An even greater challenge appeared at the beginning of the campaign for our client since their target was a geographical field that is crowded with hats and is one of the world's most developed markets in this field – the UK. 
We researched the industries and we came to a conclusion that all industries are fair game, except for: Information Technology Services, Computer Software, Computer Networking and, obviously, Cyber Security industries.
We started contacting companies with a headcount of 500+ employees, contacted titles were: CISOs, Head of Information Security, Information Security Director or Manager, Information Security Officer and sometimes, Enterprise Security Architect, Information Security Operations, Third Party Risk Management or Lead (this is for 3rd Party Cyber Risk Monitoring), Vendor Risk Management (this is for 3rd Party Cyber Risk Monitoring).
When we sorted out all of the information above, the next thing that we did was the LinkedIn Campaign, which included: Research of the target, content creation, messaging sequence creation, reaching out to prospects and scheduling meetings on client's behalf.
For approximately 6 or 7 months we were only focused  on the UK market, which included: daily research of the targeted companies and message sequence testing – adjusting the text content to reach the optimal communication that delivers the right values to potential customers for our client. This was quite a challenge and the message sequence was often changed to adjust to the industry's specifics. 
Following this period, we came to a mutual conclusion that we should cast a wider net and expand the campaign geographically to include all of Europe, with the exception of Italy, some Eastern European countries and the Balkan countries. This decision has brought great success for our client. Europe has its specifics too, like low activity during the summer season due to vacations. This was the main reason why we, together with our client, pivoted the activity towards other regions: South Africa, Australia, Singapore and Malaysia. It proved to be a good decision and these markets were fertile soil for our client. South Africa and Australia showed to be the right places to deliver the campaign during the summer time and were open to accept the services of our client. The results were many important deals for our client. 
Since April 2019, we have generated approximately 182+ leads, which is a great success.
Following the trends and insights gathered during the campaigns and the market movements, our clients upgraded their strategy with a free webinar in order to educate more prospects and at the same time create more opportunities. This proved to be an effective strategy, especially following the Covid-19 crisis and the behavioral change in the market. As a proven and confirmed tool of establishing communication and delivering value to audiences and prospects, our client held 6 webinars using International Marketing Agency`s services. 
Lastly, we must say, our lead generation specialist thoroughly enjoys the update calls with our clients which are filled with good spirit, precise professionalism and just the right amount of humor. We would also like to add in this case study that we, at International Marketing Agency, are very happy to see that our clients have understood the value of long term strategizing which is proven in this case study. 
Our lead generation system, delivers short term results – immediate validation, and long term results – acquiring the network of relevant prospects that will be engaged in future campaigns and in future alterations of the communication tool – such as, in this example, webinars, promotional materials, video content, or any other type of content that our clients decides to use as a form of communication. The long term results are progressive growth over time which is enhanced by the consistent delivery of multiple campaigns.
Recommended Posts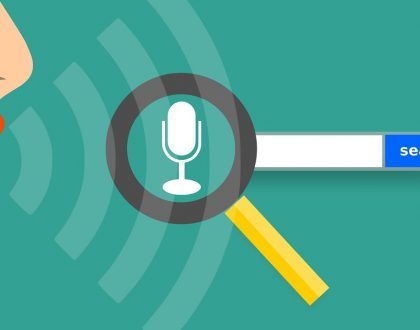 June 23, 2022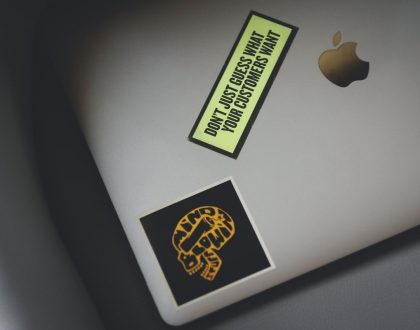 June 15, 2022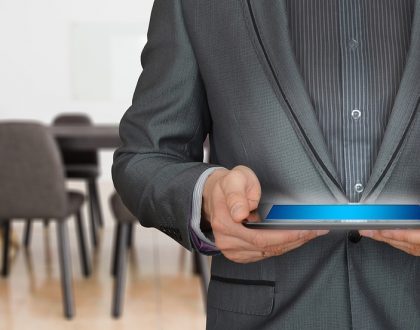 June 1, 2022